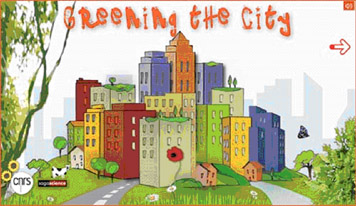 Paris, 25 May 2010
Greening the city: amultimedia animation online.
Against the background of the International Year of Biodiversity and the Shangai 2010 World Expo, this new title of the CNRS Sagascience collection will explore towns through more than 600 photographs, films and interviews.

Urban biodiversity? In people's minds, biodiversity brings up images of luxurious tropical forests rather than the flora surrounding town trees… Yet, urban ecosystems are increasingly of interest to the public and scientists alike.

Main themes include:

What kind of nature do we want to find in towns?
How can it be better accounted for in the construction of buildings?
What is a a green district?
Will towns of the future be green?
How does nature help urban dwellers live a better life?
How does it help them?

An animation in English, with Chinese subtitles, has been taken from this site to be presented from early June at the France Pavilion throughout the world exhibition in Shanghai.